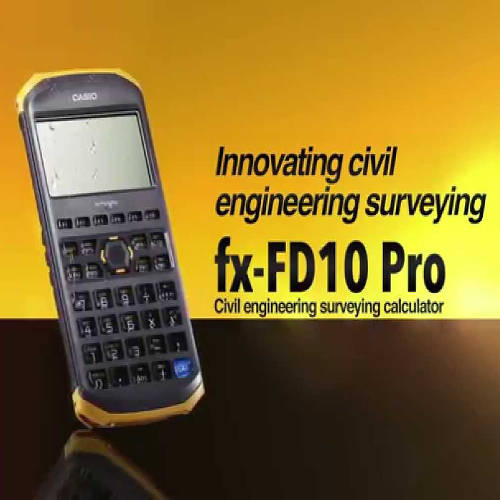 Casio FX FD10 Pro
The fx-FD10 Pro, featuring a robust body and superior brain, provides powerful support for civil engineering and surveying engineers.
This professional calculator model, born of CASIO's mindset "If it doesn't exist, create it," generates unprecedented innovation at civil engineering and surveying worksites.
Product Description
Optimal durability and ease of use for outdoor work
The result of development and manufacturing technologies perfected over many years, the fx-FD10 Pro embodies the needs of professionals in the field. It combines impact-resistant construction for hard outdoor use with water-resistance and dust-resistance to deliver optimal performance in civil engineering and surveying work.
Simple program call-up and data sharing with a PC
The fx-FD10 Pro offers simple operation that increases work efficiency, such as one-handed program search capability. The calculator is equipped with a USB port and SD card slot for connection with a surveying instrument or PC.
Optimal design and performance for civil engineering and surveying
In response to user feedback, the fx-FD10 Pro delivers design and performance suitable for outdoor work. It features a compact body with large keys and is equipped with side keys and slip-prevention grips.
21 Preinstalled basic programs useful for civil engineering and surveying
The calculator comes preinstalled with Traverse Calculation, Middle Ordinate, Clothoid Curve, and other calculation programs frequently used in civil engineering and surveying work. The programs have been carefully selected for their usefulness in field work.
73 Preinstalled Nascon's Own Copy Righted Advanced Programs useful for civil, Architectural, Engineering and surveying
Contact us for customised programmes to suit your requirements.